AQM's Load & Performance Testing Solutions offer Flexible Engagement Models in a phase wise implementation approach for Application Performance Monitoring, with Front end and Back end monitoring services. Get early assurance on application performance, scalability, reliability, security and user experience and gain an edge through our uninterrupted service, predictable and consistent application performance and periodic performance benchmarking.
Load & Performance Testing
AQM's cost optimized solutions help you to install multiple check points in application development and maintenance process. AQM's Performance Testing encompasses various sub-categories such as Load Testing, Age Testing, Endurance Testing, Peak Testing, Failover Testing, Stress Testing etc.
AQM's Performance Testing solutions provide innovative value generating solutions, incorporating open source and commercial technology like NeoLoad, Load Runner, Silk Performance Test, Rational Performance Tester and various other in-house developed tools.
Benefits
Measures scalability of the software application and infrastructure

Simulating real-life work load, work load growth and usage – including rough handling and overload conditions

Response time analysis of system along with resource utilization analysis

Performance Bench marking

Peak load handling capacity

Identification of Bottlenecks causing performance degradation
Application Performance Monitoring
AQM's Application Performance Monitoring solutions identify and isolate the root cause of performance issues generated by the server and other components in real time and solve them optimally. Providing end-to-end monitoring including application server monitoring, web server monitoring, database monitoring and end user monitoring, AQM specializes with New Relic, App Dynamics and Manage Engine.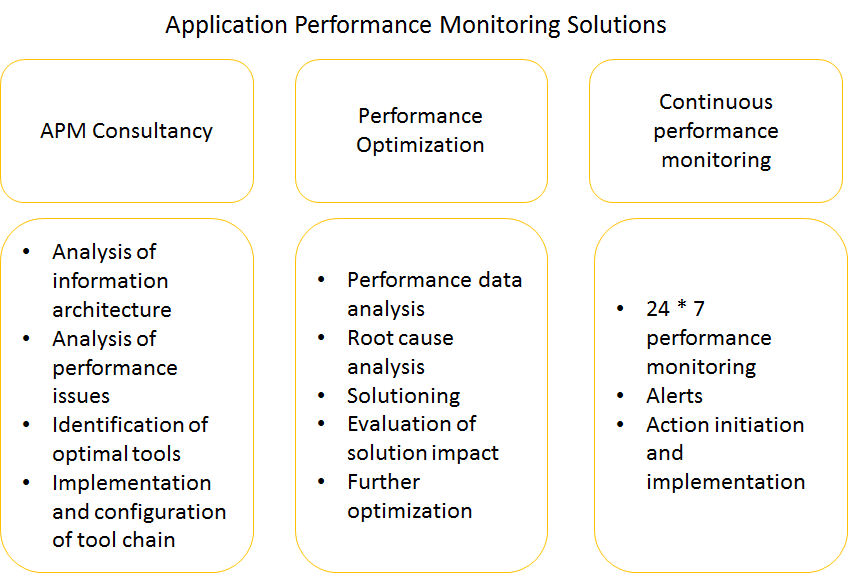 Real User Monitoring/Rum
AQM's Real User Monitoring solutions measure the real end user experience performance of all users across all locations 24×7, and capture performance and engagement metrics at scale. You can continuously observe your system in action, tracking availability, functionality and responsiveness and isolate specific session issues. Gather insights into actual user experience which enable you to improve and provide them with the highest quality online experience.
Use AQM's Real User Monitoring services and gain:
Insight into global performance of application

Page wise experience drilling

Browser wise analysis

Analysis of root cause of performance issues by combining with Application Performance Monitoring
Synthetic Transaction Monitoring
Be the first to know about your application's performance issues and improve your MTTR with AQM's Synthetic Transaction Monitoring solution. Ensure that your business website continues running optimally and there is no downtime to impact the customer experience. It helps in staying competitive and staying ahead of any potential issues, especially important for e-commerce and high traffic sites.
Website Performance Monitoring
Be in control of your web applications performance and test as often as you need to with a wide array of AQM's website monitoring services.
Our services include:
Website Monitoring (HTTP / HTTPS)

Synthetic Transaction Monitoring

Real User Monitoring

Web Page Analyzer

DNS Server Monitoring

Mail Server Monitoring

URL Monitoring

Webpage Defacement Monitoring

SSL Certificate Monitoring
REST API Monitoring

SOAP Web Services Monitoring

FTP Monitoring

Website Performance Monitoring

IPv6 Monitoring

POP, IMAP and SMTP Monitoring

TCP Port Monitoring

Ping Monitoring